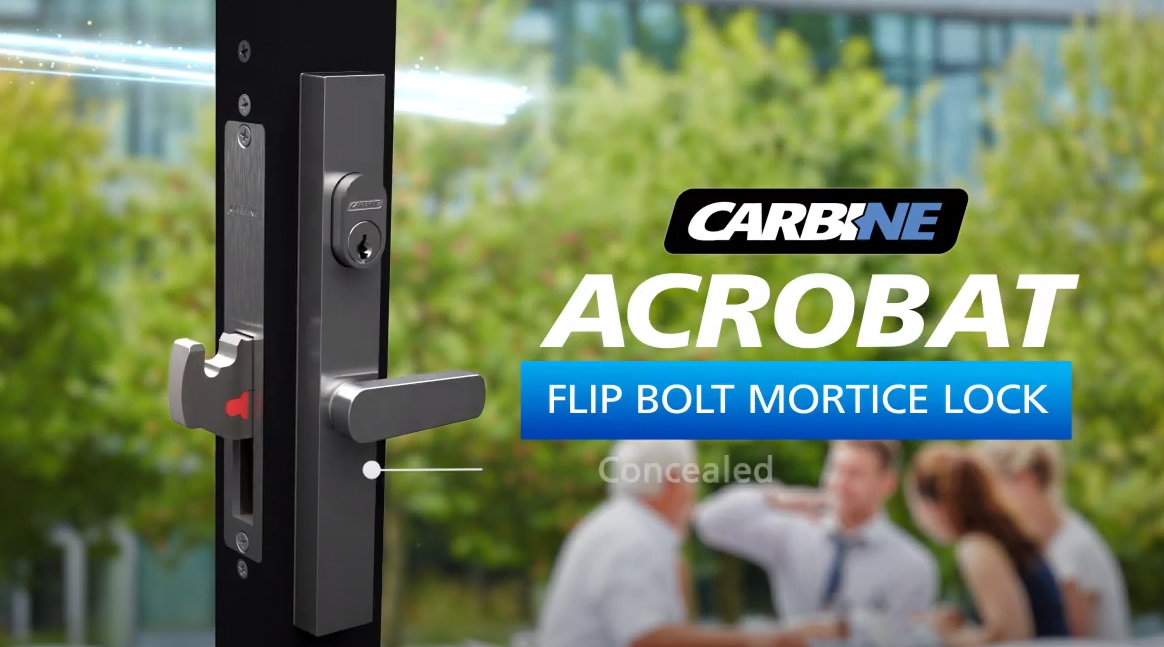 The Carbine Acrobat is a flip bolt mortice lock that offers multiple configurations to suit aluminium and timber sliding or hinged doors, and glass hinged doors. Designed to suit the flexibility of any business with its versatile and interchangeable configurations, the two main model options are a Hold Back and an Internal Deadlock version. Both models allow for multiple internal configurations such as a double cylinder, turn knob, escape turn knob, short lever, and an egress handle.The Carbine Acrobat is perfectly suited for shop fronts, sliding doors, strata buildings including main entrance doors, office doors, entry and exit doors, showrooms, and much more.
The internal deadlock model when used with the special cam and rabbit cam with the concealed short lever can internally deadlock the lock with the cylinder or have day locking with the concealed short lever. The hold back model when used with the special cam and short lever can lock the locking bolt in the retracted position. This makes it ideal for egress applications as the locking bolt can never be internally locked in the projected position and egress is always available.
The Carbine Acrobat has an easy to install mounting system, providing increased durability and more accurate and easier installation. Ergonomically designed with a brushed stainless-steel look to seamlessly integrate into existing door hardware or new installations, the Carbine Acrobat provides a plethora of fitting options, all in the one model.The Internal Deadlock and Hold Back model take a standard oval 570 style cylinder with rabbit and special cam respectively, which allows the integration with existing mechanical or electromechanical master key systems such as EVVA 4KS or EKA CyberLock. To simplify the installation of the cylinder, the Carbine Acrobat uses a non-threaded retaining pin for the cylinder, meaning no chance of damaging or losing a screw on install
Latching Strike
The latching strike with a wide mouth opening for improved locking avoids the bolt damaging the strike from slamming, and to also compensate for misaligned doors, making the Carbine Acrobat most suitable for the toughest high use environments.